Safety Center Incorporated's Annual Safety Recognition Awards
Now accepting nominations for Excellence in Safety and Safety Professional of the Year Awards
Safety Center is looking for nominees who share our passion for keeping employees safe on the job – so that they go home injury free and healthy each day.
About Safety Center's Annual Awards
'Excellence in Safety' is awarded to an organization that has implemented an innovative safety program that spans from the field to corporate management or beyond. Individuals who have shown effective leadership in creating a culture of accountability and responsibility for safety in their workplace are candidates for the 'Safety Professional of the Year' award. These awards will be presented at Safety Center's Annual Regulatory Symposium on February 7, 2019 in Sacramento.
Download the 2018 nomination form here (fillable – save file locally to edit)
2017 Excellence in Safety – Chairman's Award of Merit Recipient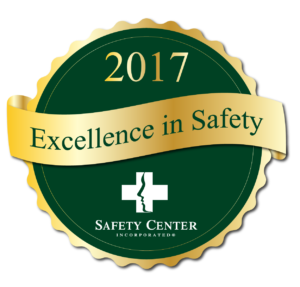 PG&E Better Together Energy Academy Program
The Better Together Energy Academy Program is providing the tools and training needed so that tomorrow's workforce has a strong foundation of safety.
---
Past Recipients
Excellence in Safety – Chairman's Award of Merit
Safety Professional of the Year
Raley's/BelAir

P G & E

United Rentals

Gencorp/Aerojet

Alliance of Motion Picture & Television Producers

E & J Gallo Winery

Granite Construction Co.

McCarthy Construction

Anheuser-Busch, Inc.

The Culinary Institute of America

Tim Lewis Communities

Mansanto Company

USS-POSCO Industries

Owens Corning Masonry Products, LLC

Michelle Schlefstein, J.R. Wood, Inc.

John Allison, Culinary Institute of America

Sheryl Moore, Department of Water Resources

Liz Arioto, Teichert Construction

Mark Marshall, Golden State Risk Management Authority

Paul Burnette, Santa Clara Valley Water District
Download the 2018 nomination form here (fillable – save file locally to edit)