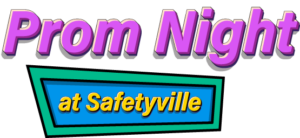 Prom Night at Safetyville
Coming Soon!
Will you go to PROM with US?! Safetyville is hosting our first ever prom themed fundraiser just for the 21 and up crowd. Get dressed in your best retro glam because this prom will be 80's/90's themed, and get ready to be Saved by the Ville!
Winter Glow
Wednesday, Friday, Saturday | 5-9pm
Dates: December 7 (bike glow), December 9, 10, 16, 17
You must per-register for this free event! Click the button below.
Experience Safetyville decked out in twinkling lights. This outdoor, free family event features holiday lights displays, safety demonstrations, and fun activities. Cookies, cocoa, and light-up items will be available to purchase at "The Northern Lights Glow Shop".
Join us for a special Bike Glow event on Wednesday, Dec 7th to ride your bike among the lights.
Safety Sundays Open House
Sunday | 10am to 2pm
Free; Suggested Donation $5 per adult, $3 per child 12 and under
Dates: May 29, June 26, August 7, August 28, September 25, October 30, November 27 (cancelled)
Visit Safetyville for family friendly, fun, and educational activities during our Safety Sundays Open House day. During your visit, you can take a self-guided tour through the streets of the little village to learn and practice safety skills including pedestrian safety, railroad safety, poison safety, fire safety, emergency preparedness, and so much more! Each month's activities will feature a different health and safety theme, and include resources you can take home to help keep yourselves and other safe.
Summer Bike Rodeos
Friday | 5pm to 8pm
Free
Dates: June 24, July 15, August 5, August 19, September 2 – 2022

Bring your bikes and helmets for a family bike rodeo at Safetyville featuring helmet fittings, bike safety demos, and fun, family activities to practice bike skills.
*ALL RIDERS (children and adults) MUST WEAR A HELMET when riding.
*Bike rodeos may be canceled due to extreme heat, poor air quality, or other factors that would make it unsafe for children to participate in this event.
*Bike Night rules:
– Parents/guardians MUST supervise their children at all times.
– Do not ride on the sidewalks or grass.
– Follow all traffic signs and signals. Ride on the right side of the road. Yield to pedestrians. Operate at a safe speed.
– E-scooters, e-bikes, and hoverboards are not permitted.
Trick or Treat Safetyville
Saturday, October 29, 2022 | 4-8pm

Trick or Treat Safetyville offers a fun and safe trick or treating experience for kids of all ages. Take a walk down the spooky streets of the little city and see what surprises lurk behind each door. Visit the trick-or-treat stations hosted by our community partners to enjoy fun activities related to safety and health and to fill up your bag with treats and prizes. Enjoy engaging performances on the Capitol main stage.
Trick or Treat Safetyville helps raise funds to support the children's safety and health education program at Safetyville.