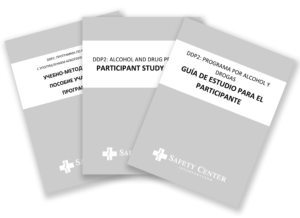 DUI Curriculum & Counselor Education for Alcohol & Drug Program Providers
Over the past 80 years Safety Center Incorporated (SCI), has expanded well beyond traffic safety programs and is now among the most respected providers of safety leadership and training.  Our Alcohol and Drug Programs offers the following professional services:
Counselor Manual and Participant Workbooks & Training

Curriculum for First Offender, Multiple Offender, Wet & Reckless
Manual and workbooks available in English, Spanish & Russian
Counselor training in DUI curriculum at Program Provider's site

Consulting services for start-up of DUI programs in other states
Continuing Education Provider for AOD counselor CEU courses
Alcohol & Nutrition Video suitable for all age groups
Rapid Eye Check training for workplace alcohol & drug awareness
For more information, call 800.825.7262 Ext. 1236 or email
Click link for description:
DUI Curriculum
Consulting Services
Counselor Training & CEU's
Alcohol & Nutrition Video
Rapid Eye Check
---
DUI Curriculum Materials & Training
The current curriculum and clinical approach employed by the DUI & Drug Diversion (PC-1000) programs at Safety Center Incorporated follows the mainstream Cognitive-Behavioral Therapy (CBT) approach commonly found in counseling psychology, which emphasizes the recognition and awareness of one's substance use problems and following specific prescriptions of behavioral modifications that aim at recognizing stress-provoking events and coping skills.  The current curriculum also reflects the cumulative clinical experiences and practical knowledge over the decades from its counselors and clinical supervisors. It should be pointed out that the Safety Center curriculum and clinical practices have been consistently applied across all its DUI program sites in three counties (Sacramento, Stanislaus, and Yolo) as well as the PC-1000 program in Stanislaus County to achieve consistency in the intervention approach. The curriculum has also gained wider acceptance by other DUI program providers.

-Sheldon X. Zhang, Professor of Sociology at San Diego State University
Counselor Manual and preprinted Participant Workbooks
Promotes consistent standards for quality and successful program completion
Comprehensive manual for conducting alcohol and drug education programs
Workbooks contain all materials so no photocopying is needed
Workbooks can be customized with your company logo
Manuals and workbooks are available in English, Spanish and Russian
Counselor training on DUI Program Curriculum at Program Provider's site

CEU's given at the end of the training
English Sample | Spanish Sample
For ordering information, click here or call 800.825.7262 Ext. 1236 or email
---
Consulting Services
We provide onsite training for new start-up DUI Programs throughout the country. SCI opened the first DUI Program in the State of California in 1971. Our experience and professionalism is without parallel.  Let us help you with your program.
To get started contact us at 800.825.7262 Ext. 1236 or  email
---
Counselor Continuing Education
Safety Center is a Continuing Education Provider for CADTP & Breining Institute
CEU courses on topics related to DUI as well as Title 9 compliance
Continuing education for counselors available at Program Provider's site
To schedule your training, call 800.825.7262 Ext. 1236 or email email
---
Alcohol & Nutrition Video – 1997 Release, 26 Minutes

Effects of alcohol and drug use by men and women
Suitable for all ages and educational settings
Prescription drugs, over-the-counter medications and alcohol
Case study and personal story
Latest cutting-edge scientific evidence

Developed in collaboration with Charles H. Halsted M.D.
Professor of Internal Medicine
Chief, Division of Clinical Nutrition and Metabolism
Director, Clinical Nutrition Research Unit, U.C. Davis Medical Center
To order your copy, call 800.825.7262 Ext. 1236 or email
---
Rapid Eye Check – Workplace Alcohol & Drug Awareness Training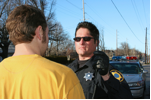 All illegal drugs affect the central nervous system and training in the Rapid Eye Check will help to verify these physical signs. 98.6% of people passing the Rapid Eye Check will also pass a body fluid EMIT test. Save money by providing this training for staff so you only pay for a body fluid test for subjects failing the Rapid Eye Check.
Advantages of Rapid Eye Check!
It is extremely effective to detect and deter drug and alcohol abuse in the workplace. Substantially all of the persons who pass the Rapid Eye Check criteria would also pass the standard EMIT body fluid test.
Rapid Eye Check is an ongoing, fulltime screening program as opposed to a random or one time pre-employment testing program. Rapid Eye Check certified managers and supervisors constantly screen and evaluate employees. The fulltime nature of Rapid Eye Check makes it a very compelling deterrent.
It is non-invasive and non-confrontational. Certified managers are trained merely to observe and note behavioral and physical characteristics which would create "reasonable suspicion" when a given employee is abusing drugs and alcohol. Rapid Eye Check's non-invasive and non-confrontational characteristics are significant advantages toward improved employee moral and therefore, the program has repeatedly been endorsed by labor unions and employee representatives. Only those persons who fail the Rapid Eye Check Technique will be subject to body fluid testing.
Rapid Eye Check is extremely fast and cost effective. Certified managers or pre-employment interviewers can review an application or employee in several minutes and in pre-employment situations virtually eliminate the need for universal body fluid testing, saving you up to 80% of your drug testing expenses.
Who Should Attend?
Risk Managers
Safety Managers
Human Resource Directors
Corporate Officers
Security Personnel
Managers
Anyone wanting to lower the cost of their non-DOT required drug testing
Companies Using Rapid Eye Check
Communications: NYNEX and Continental Cablevision
Law Enforcement: Houston Police Department; California Highway Patrol; US Department of the Army
Manufacturing: Frito-Lay; Pepsi-Cola; Texaco Refining Co.
To schedule your training, call us at 800.825.7262 Ext. 1236 or email