Although the world may be changing around us, we know that one thing is constant – you need to get back on the road and behind the wheel of your vehicle.
With that in mind, Safety Center has worked with the State of California and various Counties to develop the capacity to deliver Remote Client Services. The same format and quality that you have come to depend on is now delivered in a simple virtual format.
Safety Center's DUI program is currently accepting new clients for Hybrid Classes. This program is approved by and meets all requirements of the Department of Health Care Services California DUI Programs.
Are you a NEW client who would like to Enroll? Click the button below!

Here's what some clients have said about our Remote Client Services:
"The remote services have been wonderful, easy to maneuver, the staff at Safety Center made this whole process stress free during COVID-19"
"Great way to continue the process. Very interactive and productive"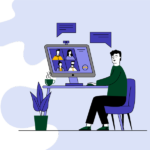 WHAT DO YOU NEED TO PARTICIPATE IN REMOTE CLIENT SERVICES?
1. Laptop, Desktop, or Smartphone
2. Reliable internet or data service
3. An open mind and time to participate in the program
4. Must be able to come to a Safety Center office to enroll
WHO CAN PARTICIPATE IN REMOTE CLIENT SERVICES?
ANYONE who has been directed to complete a DUI Education Program by a California court and or DMV. Enrollment is in person at any Safety Center office.
APPLY NOW TO START THE PROCESS OF GETTING BACK ON THE ROAD!
MEED HELP ATTENDING REMOTE SERVICES? WATCH THESE VIDEOS: