Increasing Safety through Mental Health – Safety Forum

May 10, 2022
8:15 – 10:00 am
The link between our Emotional/Mental health & Safety has been evident for several years, yet many organizations face challenges with how to deal with a holistic approach to safety at the practical level. Join us as we cover best practices and practical steps you can take to increase safety with considerations for emotional and mental health.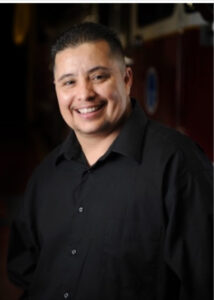 Anthony Rodriguez
Operations and Disaster Services Specialist
Foodbank of Santa Barbara County
The Foodbank of Santa Barbara County named Anthony Rodriguez as its operations and disaster specialist in October 2019 to spearhead the Countywide multi-agency disaster-feeding plan and coordinate a variety of disaster initiatives. Anthony brings a wide range disaster, emergency response and mental wellness experience. He has extensive training in Psychological First Aid,
Suicide Prevention, crisis response and certifications in FEMA's Incident Command System (ICS). In 2021, Anthony led the first countywide virtual "ShakeOut drill".
Anthony is a LISTOS Program Manager working with our Spanish-speaking communities to provide disaster preparedness training and information. He is the co-founder of the Santa Barbara Response Network (https://sbresponsenetwork.org/) which serves our community with Psychological First Aid and Response, a Compassion Patrol Team, Anger Management Training and provides training in PFA to NGO's, Emergency responders, schools etc.
Most recently, Anthony held the Goleta Prepare NOW/CERT Program Manager position with the City of Goleta where he trained and managed over 370 CERT Graduates and Volunteers. During the Thomas Fire and 1/9 Debris Flow incidents, he managed the emergency call center and served as the Liaison for the Goleta Valley Community Center during evacuations and Red Cross Shelter operations. He has served on multiple Workplace Safety Committees and has conducted a wide range of accident and incident preparedness and prevention trainings for government, non-government and non-profit organizations.
Anthony was named Santa Barbara Independent Local Hero in 2013 "Helping those in trouble" and featured in an SB News press article, "A Second Chance." His personal story is documented in a book called the "Santa Barbara Project" and in two films, "Surviving Suicide," and "Ebb and Flow: A Survivors Story," which premiered on September 6, 2017.
In addition to his response expertise, his unique and diverse style of training and educating, has been recognized countywide.
May 10, 2022




8:15 AM - 10:00 AM
May 10, 2022




8:15 AM - 10:00 AM